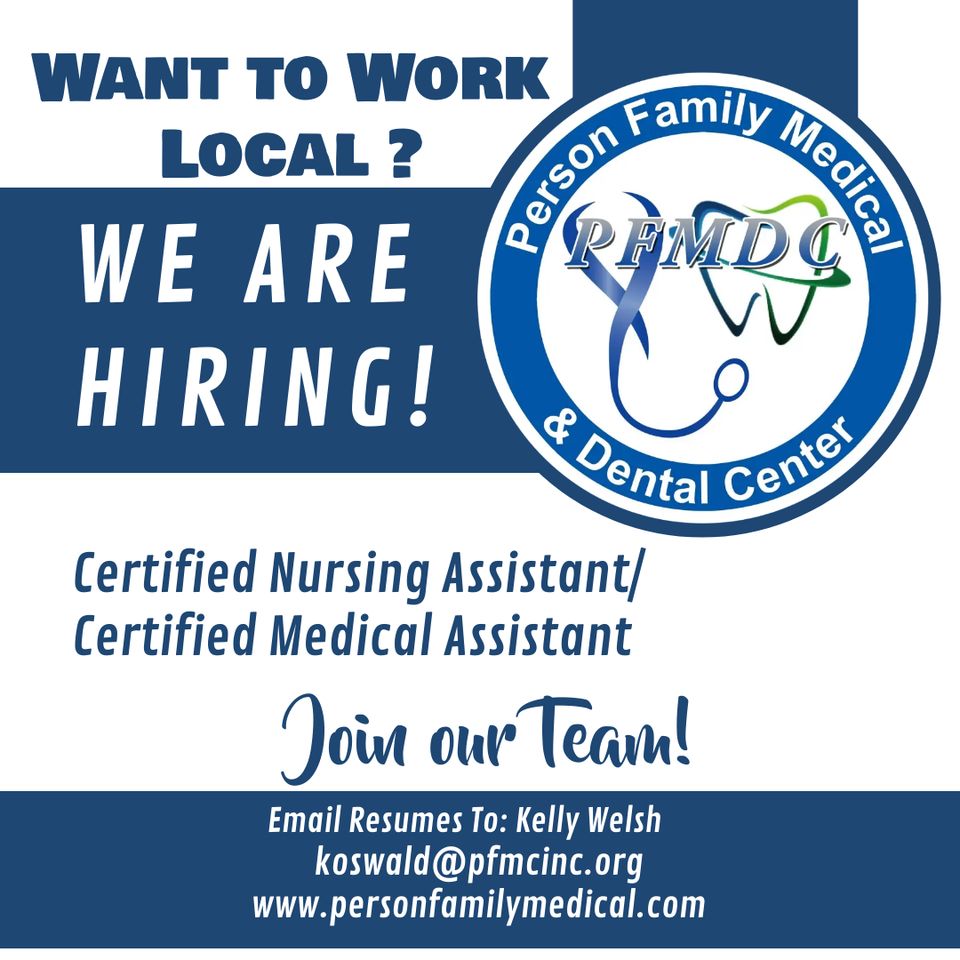 PFMC is a Federal Qualified Health Center that has some great benefits, including student loan payoffs, flexible work schedules, health insurance, paid time off, competitive salary, and more. We have an updated facility with new equipment. We have great working conditions and are team oriented. Don't miss out on this great opportunity.
PFMC is an approved Medical Facility to administer the COVID Vaccines to all groups 6 months and up. PFMC have the new Bivalent Booster. The Bivalent vaccines are recommended for use as a booster shot for those 12 and older at least two months after completion of the primary vaccination series (Pfizer, Moderna, or J&J) or two months after the last booster shot.  There is minimum to no waiting time. Contact (336) 599-9271 ext. 225 or 234 for more information or questions. 

Walk-ins are accepted.
Patient Centered Medical Home 
What is a Patient-Centered Medical Home (PCMH):

• Your PCMH is dedicated to being your trusted partner in health and healthcare.
• Rather than being a physical home, a PCMH is overall care that focuses on you and your healthcare needs.
• It is a team-based approach to your healthcare, led by your PCP.
• You are the most important person on the healthcare team.
• A medical home is all about you.
Person County's
Community Health Center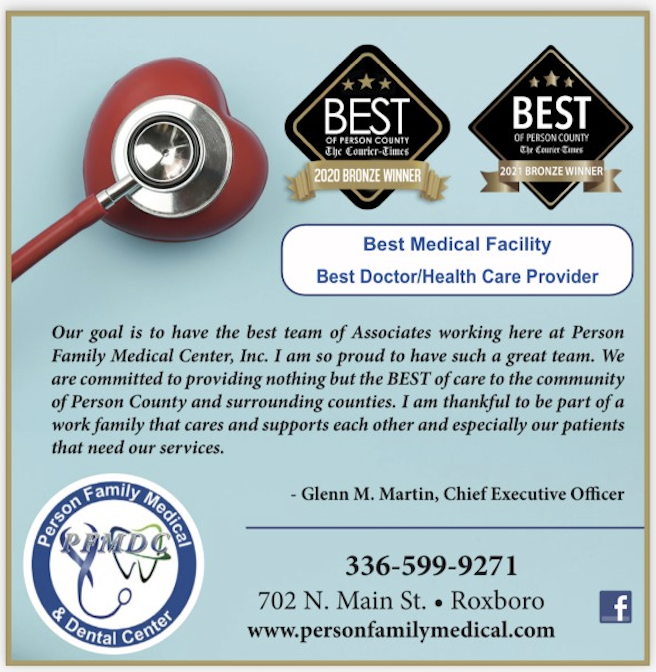 For the latest COVID-19 stats click here
The state has launched a new website
https://nc.gov/covid19
to serve as a portal for all COVID-19 across state government.
COVID-19 Vaccine Administration Form
PDF
Safwat Nasrat, MD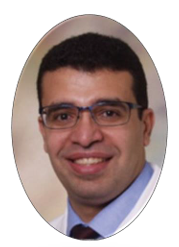 Person Family Medical Center is pleased to announce our newest physician; Dr. Safwat Nasrat, a board-certified family physician. He will also serve as the Medical Director of the facility. Dr. Nasrat joined Person Family Medical Center on August 16, 2021.
Dr. Nasrat received his Doctor of Medicine degree from Asyut Medical School, Egypt. His medical residency in family medicine was completed at St. Elizabeth Medical Center in Utica, New York.
He is board certified by the American Board of Family Medicine and is a member of the American Academy of Family Physician.

Dr. Nasrat was born in Egypt-Cairo, but now resides in Raleigh, NC with his spouse and two daughters. His spouse Dr. Nakhla currently serves as the Medical Director at Brantwood Rehabilitation Center. He enjoys spending time with his family and playing soccer in his spare time.
Dr. Nasrat is now accepting new patients and is excited to bring his expertise to Person County.

Contact (336) 599-9271 to schedule an appointment.

 
PROFESSIONAL HEALTH CARE YOU CAN AFFORD
Established in 1980, The Person Family Medical Center is a Federally Qualified Health Center (FQHC) located in Roxboro, NC.  Our Dental Center was established in 1996 and provides superior dental service. For the convenience of our patients and to better serve you, a second satellite dental clinic was established in 2008 in Yanceyville, NC.

The Person Family Medical Center offers a variety of affordable and high quality health services including primary care, dental, nutrition counseling, diabetes education, behavioral health, and outreach services to the community.

Please contact us today to schedule an appointment.
Beginning January 2021 Person Family Medical Center is extending our Free Diabetic Education Classes to anyone who is diagnosed with Pre stage diabetes , Diabetic Type 1 or Type 2. These classes is now being offered via zoom with the option to dial in. Mary Matthews, PA-C  will be presenting preemptive ways to control diabetes. The upcoming class will be held on January 11th and  every 1st Monday of  the month thereafter.

The Person Family Medical Center's team want to help with keeping you healthy and informed on this community wide disease. Don't miss out. It is very informative and you have a chance to ask questions that are effecting you or your family member.

Thank you, and we look forward to bringing Diabetic Education to the community. If you have any questions you can call Mrs. Brenda Hunt-Moore at 336-599-9271 extension 225.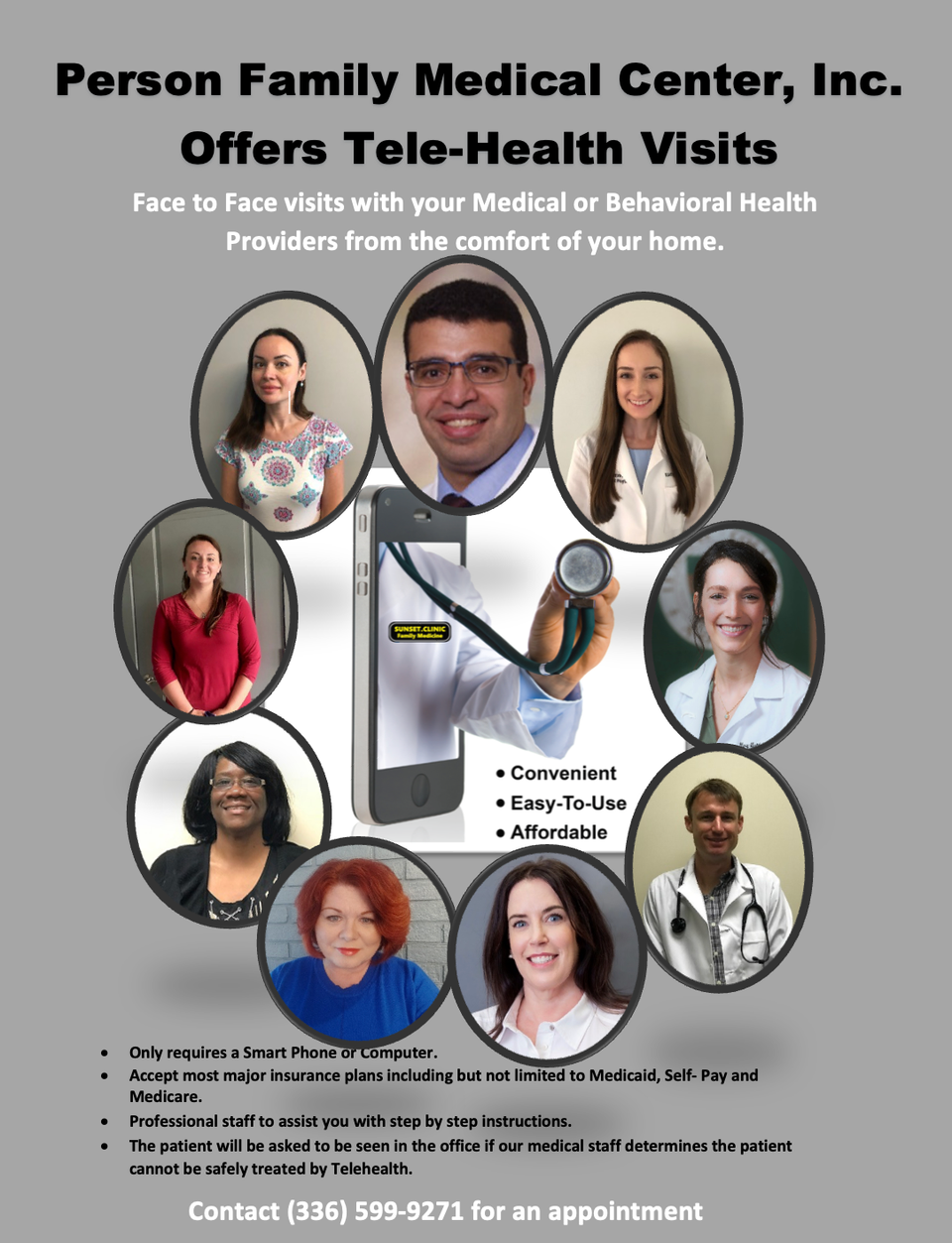 Now offering Tele-Health appointments from our Behavioral Health and Medical Clinic.
Only requires a Smart Phone or Computer.

Accept most major insurance plans including but not limited to Medicaid, Self- Pay and Medicare.

Professional staff to assist you with step by step instructions.

The patient will be asked to be seen in the office if our medical staff determines the patient cannot be safely treated by Telehealth.
Call 336-599-9271 for more information.
NOTICE TO OUR PATIENTS:
This health center receives HHS funding and has Federal Public Health Service (PHS) deemed status with respect to certain health or health-related claims, including medical malpractice claims, for itself and its covered individuals.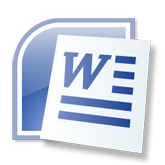 View Privacy Guidelines and HIPAA Compliances Below:
Downloadable Medical and Dental Patient Forms
With Patient Portal, you can connect with your doctor through a convenient, safe, and secure environment.
Find out what our patients say about our practice!
Schedule an Appointment
We are welcoming new patients.  Please contact us today to schedule your next medical or dental appointment.